A Hands-On Approach to STEM Learning
FIRST LEGO League guides youth through STEM learning and exploration at an early age. From Discover, to Explore and then to Challenge, students will understand the basics of STEM and apply their skills in an exciting competition while gaining productive learning habits, confidence, and teamwork skills along the way.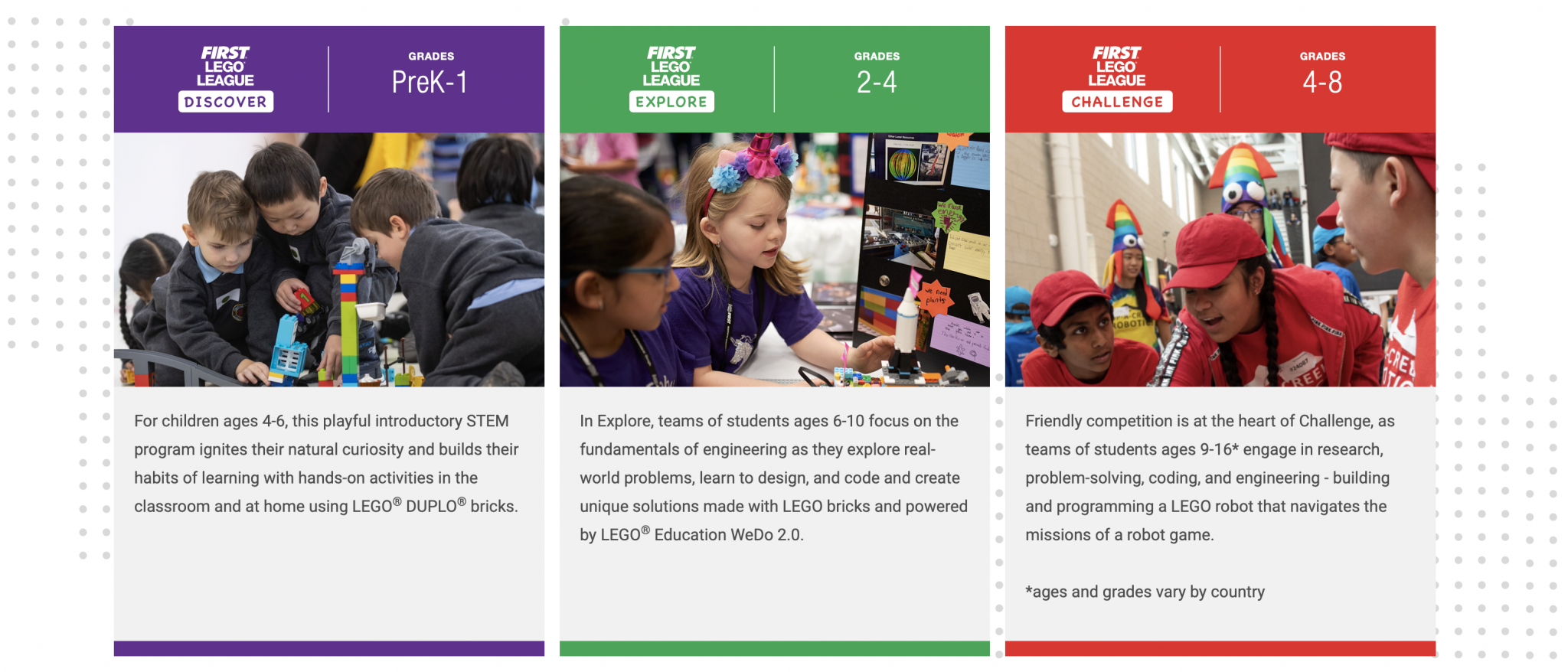 Engaging Youth in STEM Exploration
FIRST LEGO League introduces science, technology, engineering and math (STEM) to children ages 4-16* through fun, exciting hands-on learning. FIRST LEGO League participants gain real-world problem-solving experiences through a guided, global robotics program, helping today's students and teachers build a better future together.

In FIRST LEGO League, students engage in hands-on STEM experiences, building confidence, growing their knowledge and developing habits of learning. FIRST LEGO League's three divisions inspire youth to experiment and grow their critical thinking, coding and design skills through hands-on STEM learning and robotics:

FIRST LEGO League Discover - PreK- Grade 1:
• For children ages 4-6, this playful introductory STEM program ignites their natural curiosity and builds their habits of learning with hands-on activities in the classroom and at home using LEGO® Duplo bricks. »Discover: How does it work?

FIRST LEGO League Explore - Grades 2-4:
In Explore, teams of students ages 6-10 focus on the fundamentals of engineering as they explore real-world problems, learn to design and code and create unique solutions made with LEGO bricks and powered by LEGO Education WeDo 2.0.
»Watch Video

FIRST LEGO League Challenge - Grades 4-8:
Friendly competition is at the heart of Challenge, as teams of students ages 9-16 engage in research, problem-solving, coding and engineering – building and programming a LEGO robot that navigates the missions of a robot game. As part of Challenge, teams also participate in a research project to identify and solve a relevant real-world problem.

»
Watch Video
»Challenge Competition Rules
Levels of Program Progression
• Explore - Expos: Late October - Early December *not a competition
• Challenge - Regional Qualifying Tournaments: Late October - Early November
• Challenge - National Championships: Early December
• Challenge & Explore - World Festival: held in the USA every April, following the Libyan National Championships *invite only
• Challenge - Open Championships (International): off-season events, Libyan teams qualify at the national level for invitations

*There are no events for FIRST LEGO League Discover. This program is a home, school or community based activity only.
You need help or more information? Get in touch:
info@LYBOTICS.com or +218 (0) 94 579 8487